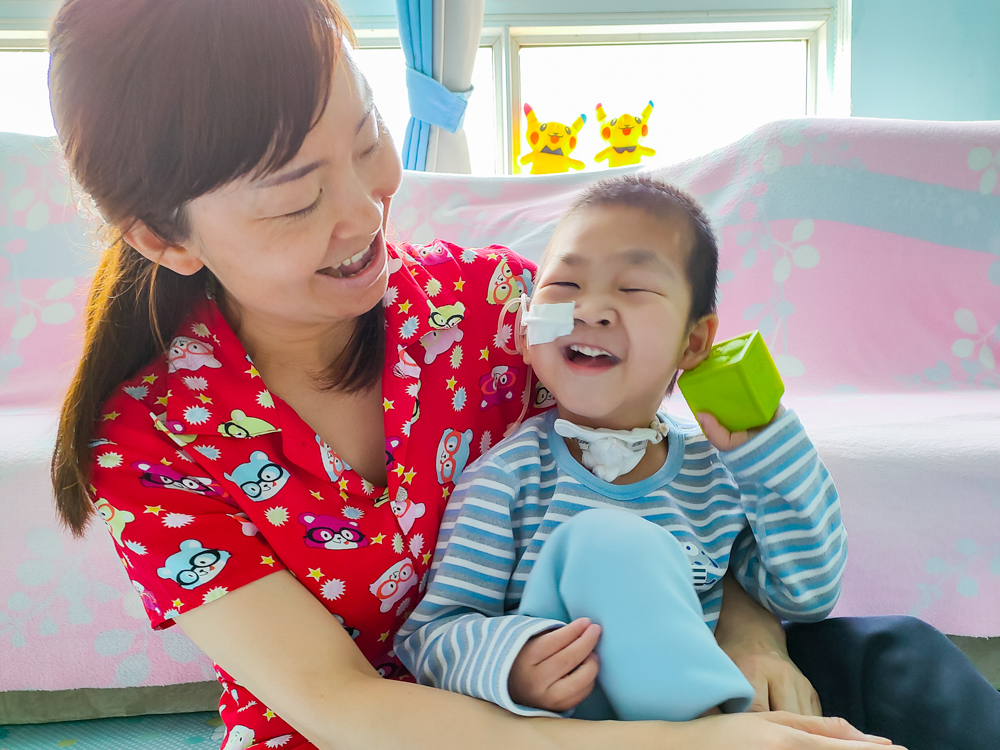 In honor of Mother's Day this year, we wanted to share with you some of the insights of a few of the "mothers" of New Hope. Our nannies are really the heartbeat of this work, playing a crucial role in the daily lives of the children and supporting the efforts of our medical staff in hopes of achieving the best possible outcome for each child. It is not an exaggeration to say that we could not possibly do what we do without the constant presence, the watchful eyes, and the nurturing care of our nannies.
We invited one nanny from each of our four Hope Healing Homes to talk about some of their experiences while working here, their thoughts concerning the children, and how this job has impacted their own lives. We trust you will enjoy reading their responses, and we hope you will be greatly blessed in knowing that your support makes it possible for us to employ not only these four loving "honorary moms," but many more just like them!
Click on the galleries below to reveal more photos of the nannies with the children.
Jaydon's Hope Healing Home in Zhengzhou
I am Ma Ayi. I'm one of the nannies in Jaydon's Hope Healing Home in Zhengzhou. How time flies! It's hard to believe I've been working here for nine years. During my time of caring for the children, I've watched seriously ill and weak babies gradually recover and grow under our loving care. It has touched my heart deeply to witness the changes that have come upon these children and their strong will to live. To be honest, caring for these children is not easy; in fact, it is a very difficult job. However, it has brought so much joy. Surprisingly, I have found myself falling in love with these children!
I will never forget a child named Renren. He came to the healing home when he was about two years old after having been in the hospital for nearly all of those two years. Renren was thin and weak. He had a tube in his neck and a feeding tube inserted into his nose. His eyes were dull, and he kept coughing and wheezing. The nurse was often removing phlegm for him through the tube. Watching him suffer so much, all I wanted to do was hold him and comfort him.
The doctor and nurses carefully taught me how to care for Renren. They told me to pay great attention to the intubation because it was very important to his well-being. I was learning to change the gauze, feed him through the tube, massage him, pat his back, and help him cough up phlegm. I held him in my arms very carefully. From the beginning, he would often cry due to pain. With attentive and precise care, Renren gradually gained weight and strength. He began smiling at us, and later he could sit up, crawl, and hand me his toys. I realized that each small progress he made was a result of many efforts being put forth by us. Every little bit of progress made me extremely happy and excited!
Currently, Qinqin and Huanhuan are under my care. They both underwent a liver transplant. Qinqin is playful and active, and sometimes she doesn't want to listen or do as we ask. At times, I feel helpless and frustrated. One day I overheard a conversation between the two girls. Huanhuan said to Qinqin, "Why don't you listen? Every day mom bathes us, changes our clothes, combs our beautiful hair, gives us delicious food, plays with us, and takes us to school. Don't you know that mom is working hard to care for us?" Qinqin replied, "I will listen to mom from now on." My eyes blurred with tears! Seeing the children growing up and learning to be thoughtful made me realize that the price I paid was all worthwhile.
There are many heartwarming moments at work. For example, children saying thank you when giving them snacks, obediently putting away toys before meals, taking the initiative to grab a stool when we are about to comb and braid their hair, and when they lie in my arms and hug me around my neck. All these moments make me happy and gave me a big sense of achievement.
Watching the children gradually growing up in better health because of our attentive and detailed care gratifies me and makes me very proud. I truly love this ordinary but incredibly meaningful job. May the children grow up healthy and safe!
Anita's Hope Healing Home in Jiaozuo
I'm Cui Ayi, and I'm a nanny at Anita's Hope Healing Home in Jiaozuo. I have taken care of children with many different physical conditions, including cleft lip and palate, heart disease, blindness, scoliosis, cerebral palsy, and others. The children in the home need a lot of care. Every day I bathe them, brush their teeth, feed them, and change their diapers. When I finish all of this, I take time to teach them to speak, to sing children's songs, and to read Chinese poetry. My desire is for them to grow up in love and tender care.
Among the many children I have cared for, there is one child who has touched my heart the most. Her name is Yuyu. She was born with a cleft palate. When she first came to the home, she was very thin and small. She was unable to eat and had a gastric tube inserted. I fell in love with her the first time I held her in my arms!
After a period of time, she started to gain weight and strength and was able to roll over. To make her feel safe, I would spend time holding her and making eye contact with her. I would also teach her to walk, to talk, and to play with toys. As I continued to show her love, over time we developed an attachment and trust with each other. Later, she underwent the cleft palate surgery, which was successful, and she has recovered well. Through focused care and nursing, her health is getting better and better.
I remember when Yuyu first called me by name—I was so happy! Whenever I would come to work, she would just keep her eyes glued on me, and I would rush to give her a big hug. One day, she walked up to me and said, "Ayi, please eat this egg." I replied, "Thank you, Yuyu! Ayi won't eat it. You eat it." I noticed that she looked a bit upset with my response. One of my co-workers said to me, "You better eat it. It was her egg last night. She wouldn't eat it. She has saved it specially for you." I was so touched, and it brought tears to my eyes. I held her tightly and said, "I'll eat it. Thank you for being so thoughtful! Thank you for sharing good things with me!" Her little face lit up with a big happy smile.
Time flies and Yuyu is now four years old. With my loving care, she can now walk on her own, speak in complete sentences, fully express herself, recite Chinese poetry, and sing children's songs! She is smart and already knows many principles of how to conduct herself. She knows to be polite, to treat people with kindness, and she knows to share good things with others.
Maria's Hope Healing Home in Luoyang
I am Guo Ayi, and I am one of the nannies here.
Time flies! Spring is here again. It means that I have worked at Maria's Hope Healing Home in Luoyang for another year. I have been assigned to take care of children with different medical conditions. I make sure that the daily needs of the children are met. However, that is not the most important thing I do. I also make sure that all of the children in my care feel safe, loved, and at home.
The most unforgettable experience I've had was being Chengcheng's caregiver. I have a vivid memory of the time that I was with him. He was very thin and small when I first met him, and I was extremely upset when I heard about his condition from the doctor. I thought, "This little baby has suffered so much already at such a young age." A strong sense of responsibility arose in my heart, and I was determined to take good care of him.
I carefully looked after Chengcheng day and night. When he was about six months old, I was asked to accompany him to Shanghai Children's Hospital for a surgery he needed. I was nervous at first because I had no experience in taking care of a child in a hospital setting. I was afraid that I would fail. However, that thought quickly disappeared through the love and sense of responsibility I had for him.
The day of the surgery, I was holding his little hands, and I said, "Don't be afraid! Ayi will be here waiting for you. You will be out soon." I was extremely worried and anxious while waiting outside the operating room. After more than three hours, the door opened, and I saw Chengcheng's little body covered with tubes. It was heartbreaking. I held his hands tightly and said, "Don't be afraid! Ayi is here and I won't leave you. You will get better soon."
The first two days after the surgery, I didn't sleep at all. I was watching him receive the infusion. I would call the nurse when the bag was almost emptied. The nurse began teaching me how to provide postoperative care for the type of surgery he had undergone. Chengcheng would cry because of pain, and I would gently comfort him, wipe off his sweat and saliva, and promptly clean and disinfect the wounds.
Fortunately, the surgery was successful, and through attentive care and nursing, Chengcheng's health improved. The tubes were gradually removed, and he was able to drink milk and digest it well. I held him in my arms and comforted him. I was so happy to see him feeling better. After 18 days in the hospital, he recovered well and was discharged.
As nannies, we are always learning and obtaining more knowledge on how to better care for the children. We know how important it is to abide by the rules, to work together as a team, and to help each other to provide proper care and love for the orphans.
Nash's Hope Healing Home in Nanyang
I am Li Ayi. I've been working at Nash's Hope Healing Home in Nanyang for eight years. I must admit that at first I was shocked and scared when I met children with various serious illnesses, and I was worried and heartbroken to see their distress when they were in pain. But after these years of being with the children, I care for them as if they were my own. In fact, I'm more attentive to them than my own children!
In our healing home, there are some children who are born with cleft lip and cleft palate. They eat very slowly, and we must be patient and take time to feed them. Some need to use a nasal feeding tube to intake milk. We nannies must pay close attention and provide daily care for each child properly. We bath them, comb their hair, sing to them, comfort and calm them, and do our best to meet their needs.
By far my greatest memory was a little girl named Lele. She had congenital heart disease. When she arrived at the home, she weighed only about two kilograms. She would lose her strength quickly during
feeding and would need to take a rest before we could continue giving her the milk. It would usually take more than half an hour just to feed her. She would fall sick often and her cries were heartbreaking. I would hold her in my arms and walk her around, trying to comfort her until the nurse came. I wouldn't leave her until she felt better and started smiling again.
Later, Lele went to Hangzhou for surgery. I continued to take care of her after she returned from the hospital. With our diligent and proper care, Lele became like a normal child, able to learn to speak and walk. She was so cute and lively. She would make faces to make me laugh, and she called me mom! In November 2017, she was adopted, and it was very hard to say goodbye. I bought her a pair of shoes to let her know how much I loved her. No matter where she is, I just want her to always be happy and blessed!
My most fulfilling experience is in taking care of Shuangshuang. She has Down's syndrome. She came to our care when she was only seven months old. I've been her nanny from the beginning, and she is now three years old. She is such a smart little girl. When I hold her, she will rub her head against my face, look at me and call me mom, and give me kisses. And when she is eating, she likes to share her food with me by putting it directly into my mouth! Looking back on how weak she was when she first arrived, and now seeing her walking and calling me mom, my heart is overwhelmed with joy that she has made such great progress.
Seeing the children getting healthier, stronger, and more active makes me really happy, and I feel that all my work is so worthwhile. I've been working here for a long time. I have met many children, some naughty, some well-behaved, some who like to cry, and some who like to laugh. To me, they are all lovely! I love the children here! My hope is that my love can warm their hearts, and my desire is to see them healthy, safe, and happy.