Meet the Children in Our Care
These are just a few of the approximately 200 children entrusted to New Hope Foundation's care in China. Each child lives in one of our Hope Healing Homes in Henan Province, receiving love and care 24 hours a day, 7 days a week.
If you are interested in supporting the care of these children, please visit our Donate page. All gifts are used to benefit all of the children in our care.
If you're interested in praying for all the children in our care by name, please visit our Prayer List page. We'd love to have you contact us to let us know you're praying.
Click on the children's pictures below to learn a little more about them!
Click on the children's names in the slider below to learn a little more about them!
Please note that we cannot publish the children's Chinese names or their orphanage locations due to rules issued by the China Centre for Children's Welfare and Adoption. This is to keep personal information confidential during the adoption process.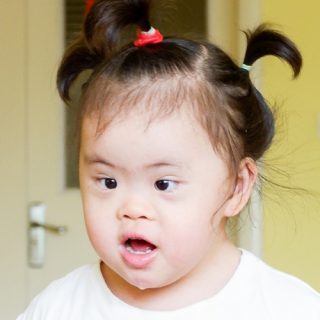 Amihan was born in 2017 in the Henan province.She was born with Down syndrome and congenital heart disease. Amihan is a sweet and bubbly little girl with a ready smile. She has a special way of finding joy and fun in very ordinary things like simply holding a...
The children's profiles available above and the occasional child spotlight stories found on our website are shared solely in an effort to provide our donors with a glimpse of the unique beauty and dignity inherent to each child who comes into our care. These are in no way intended to be a complete or up-to-date substitute for referral information given by a licensed adoption agency.
Out of a desire to honor and protect each child's privacy, we focus our reports on the positive aspects of the child's daily life, and not the serious medical challenges many of them face, as this type of information is confidential and only available through officially sanctioned adoption channels.
Donate
Your contributions make quality care for orphaned children possible. Donations of any amount are appreciated and vital to our ongoing work. New Hope Foundation is 100% privately funded by donors like you!