A Mother's Heart in Nanjing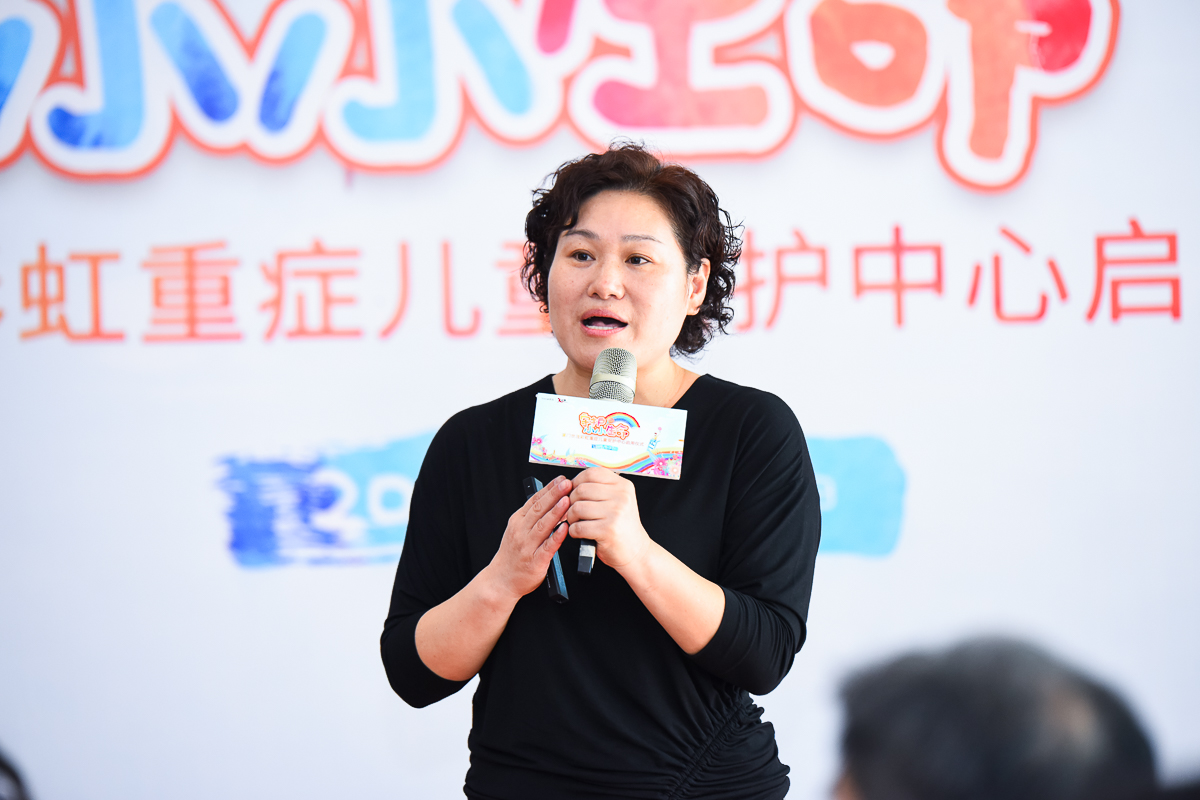 Linda Huang is an exceptional woman who runs an organization that cares for orphaned children with severe special needs. Sound familiar? That's because her work is very similar to ours, and New Hope Foundation has partnered with the Nanjing Rainbow Center in Nanjing since late 2016 up until just recently. We have assisted in the care of the children in Nanjing in an advisory capacity and have been privileged to witness both the triumphs and the sorrows that this kind of work intrinsically affords.
A meek and humble woman, Linda would not categorize herself as exceptional—though she clearly deserves that recognition. Our partnership with the Rainbow Center is drawing to a close, and we would like to pay tribute to her today for her caring and compassion, and for the difference she has made, and continues to make, in the lives of so many medically fragile children.
Linda is from Yancheng City in Jiangsu Province, and she started her work in October of 2013. The interview questions and Linda's answers were given in Chinese. The following is the translation thereof.
What motivated you to begin working with children who have severe special needs?
Quite simply, because I am a mom. When I first came in contact with orphaned children, my own child was about the same age. It occurred to me that when my son cries and needs attention, I am there for him, and his needs are met with love and care. But I suddenly realized that the orphaned children could not get the same loving care and that their needs were not being met. And on top of this, these children have very serious illnesses. That realization hurt me deeply.
I felt that if I could just hold these kids close and let them feel my heartbeat that I could comfort them and make them feel better. I noticed how other women—other moms—would visit the children and donate money and materials. This was nice, but I felt that I could do more than just visit a few times a year. I decided I would give my time and resources to try to help these children, and I felt that doing so would bring me great happiness in return.
What is the most satisfying part of your work?
Through the care given at the Rainbow Center, I have seen the children grow stronger and more physically fit to undergo their needed surgeries, thus giving them a better chance of getting well.
To me, children are like flowers. There are many different types, and by giving them the proper love and care, each flower will bloom in its own beautiful way. Watching my little "flowers" bloom brings me the greatest happiness! When I see the children smile and I can tell that their pain has lessened, I know that the flowers are being cared for properly. To see their smiles makes everything we do worth it.
The Rainbow Center started with just six beds and a very small staff. It has grown to 80 staff members in Nanjing and 40 in another location. This gives me a great sense of accomplishment. My team and I are like family, and I know the wonderful relationship we have is because each of us shares the same vision, values, and beliefs. I am so blessed to have such a great team!
When I'm looking for supervisors, a person's work capability is not my number one consideration because I can train them how to do the job. I feel the most important thing is for them to have the same vision and to be willing to show love to the children and others. Supervisors need to be an example and not just sit in an office and give orders. Our model is to work together as a team and to spend time with the children.
I learned the importance of this in a very difficult way. We once cared for a little girl who was about three years old. She had heart disease, and a tube was placed that made it hard for her to speak. Whenever she would see me, she would ask me to tell her a story. The pressures of running this organization were many, and I would always ask her to wait for next time. The sweet girl never complained and waited patiently for me. Unfortunately, "next time" never came. One day, while I was away, I received news that she was dying. I was not in close proximity and could not get back in time. It broke my heart that I never got to fulfill her wish.
I learned a very valuable lesson that day. After this, I decided that I would never be too busy to give a child the attention he or she needs.
How has working here changed your life personally?
It has changed my entire perspective on life, as it has done for my team as well. We've learned to care for one another, to show love, and to be patient. This has changed the home life of some, too.
On occasion, our Rainbow family will get together for an afternoon party, and everyone will bring a dish to share. During one of these gatherings, a caregiver's teenage daughter came and told me that the work here really changed her mother. She said her mom used to scold her and be very harsh, but after working with me and the team, she had become very kind and patient. She said her mom looks at life from a totally different perspective now.
Tell of one or two experiences you would like to share during these years that has had a significant positive impact on you.
Because I wanted the children to be given the opportunity to receive some education and to experience real family life with a mom and a dad, I was inspired to set up the very first "Family Unit" within the orphanage where our Rainbow Center is located. Because of the children's constant medical needs, the family unit had to be located within the orphanage.
It was challenging to find a couple who would be willing to care for three children with special needs. Finally, one of my caregivers agreed to do so. Her husband was not completely sure at first, but his heart was touched after meeting the children and hearing them call him "papa." So far, they are the only couple that has agreed to participate.
This amazing husband and wife have been so faithful. They care for the three children seven days a week without a break. Even during Chinese New Year, they stayed with the children instead of spending the holiday with their own family. They have been in the unit for over a year now, and they truly inspire me. I am so grateful and have tremendous respect for them as they are giving their all to the children.
When hard times come and I feel like giving up, I think about my team—people like this couple—and it gives me the strength to go on. And of course, the children keep me motivated as well. I remember one Chinese New Year when one of the children told me that he was so grateful that I had given him a home. That really touched my heart in a profound way.
What is it that has made you stay with your work all these years?
I feel that I am responsible for the well-being of the children. How could a mom ever leave her own children? No, NEVER!
Between caring for the children, having some health challenges of my own, and meeting the needs of my own kids, sometimes there is a lot of pressure. But when evening comes and all is quiet, I think about all the good people surrounding me and supporting me in this work. Some give their time, others their money, and they don't even ask for a "thank you." This gives me the encouragement and the determination to keep going and to never give up.
What advice would you like to share for those who want to start something that is meaningful and at the same time challenging?
As I said, never give up! Expect to face hard times, and if you need to cry, then cry!
Stay focused and be steadfast with the goal that you've set. If you don't give up, you will continue to flourish.
Every step you take—even the ones that fail—will be an opportunity to learn and grow. Just decide up front not to give up, and know, too, that each difficulty is a chance to improve your performance and ability.
Any other comments you would like to share?
I still have lots of energy and I would like to be involved in educating young people. I want to teach them how to love and care for others—not just children with special needs, but to use their lives to help change other people's lives.
Love is the ingredient that allows the flowers to grow into what they were meant to be.