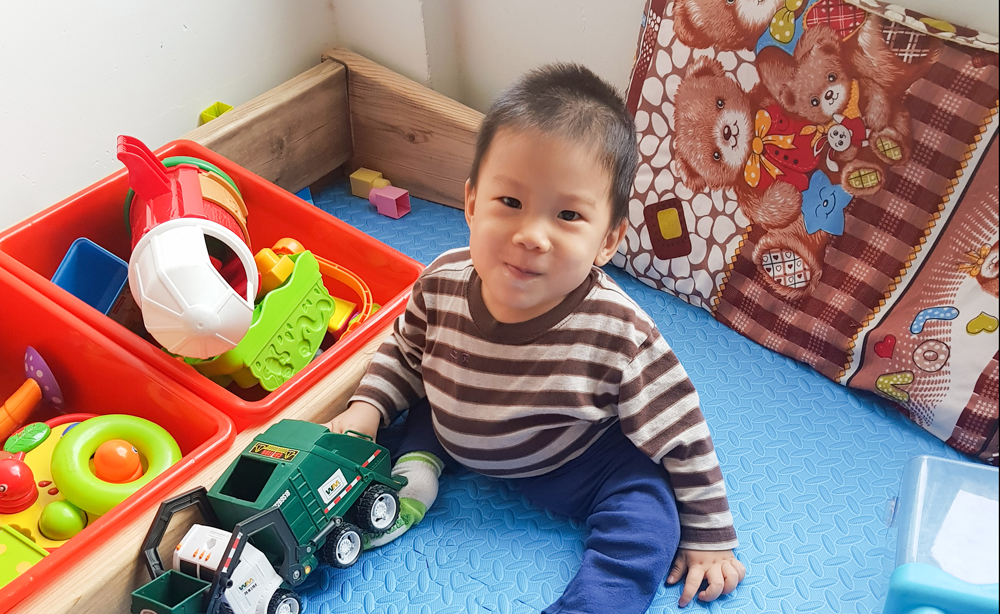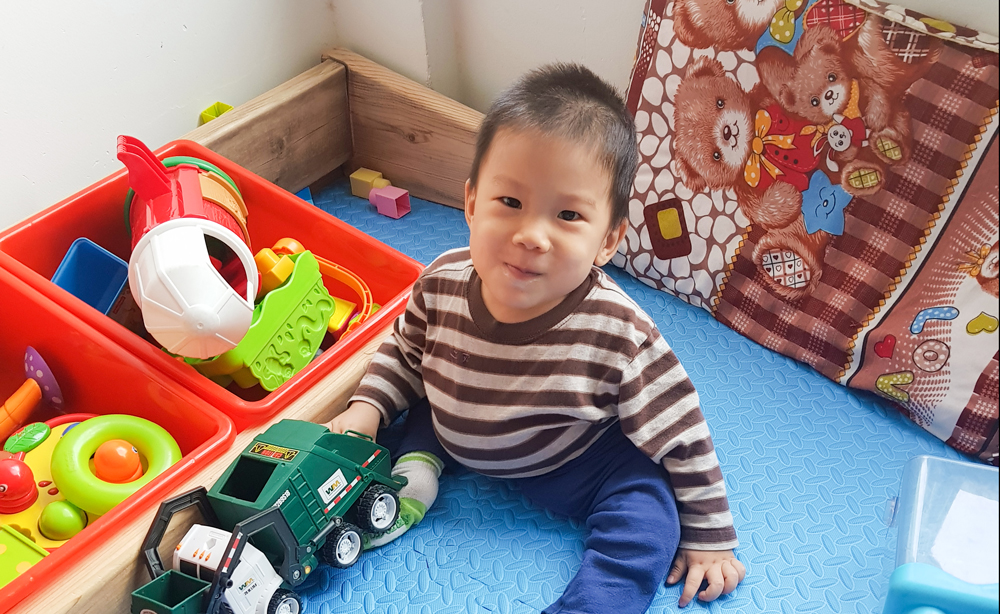 Hello! My name is Galvis and I had my second birthday this past summer. I was born in 2017 in the Henan province of China. I was born with Spina Bifida, and when I was just two-and-a-half months old, I was admitted into the care of New Hope Foundation.
After being admitted—the very next day, in fact—I was sent to Suzhou for surgery with a group called MedArt. They're from Hong Kong. I recovered in the hospital for a couple months and then went back to one of New Hope's Special Care Centers in Henan. Then just before my first birthday, I got to go live at NHF's Beijing, Shunyi Care Center. Wow! The Nemo room was so amazing! Due to the Beijing Care Center closing earlier this year, I needed to return to Henan province, and I'm very happy in the New Hope Care Center I'm currently living in.
Well, that's enough about my history. Now I want to tell you who I really am! I'm a jolly little fellow with a boisterous laugh. Mine is the kind you would call "contagious." And if laughter is really like a good medicine, then you're likely to OD when I'm around because when I laugh, you're gonna laugh, too—and I laugh at just about everything!
Maybe I was born with an extra funny bone. I'm not quite sure. But I do know that the things that happen around me crack me up! My friends and nannies are just so funny. I get along with them so well and we always have a good time together. In fact, I love my own nanny so much that I always want her by my side. 
For some reason, I've been described as a silly boy. Imagine that! Silly Galvis. Maybe it's because I like to mimic the older kids and even my nannies. Or maybe it's just because I think everything around me is so funny. I love to play peek-a-boo and I think it's hilarious when you put something on your head and let it fall off. I never get tired of that! Just try me!
I really like going to preschool with all my friends. That's the highlight of my day! I'm a giving little guy and I always share my toys and even my fun-food with the other kids. I'm very observant and aware of what's going on around me, and I'm also known for giving really good high-fives.
It's not uncommon to see me zipping around in my Zipzac chair. It's so much fun and I love the freedom it gives me. I have made a lot of progress in physical therapy lately, too. I'm crawling so much better and I love chasing toys across the floor. The nannies are doing a great job of encouraging me to try things on my own, and I'm definitely getting stronger!
After the day's activities are done and I'm feeling a little more mellow, you can bring your face close to mine and I just might reach up with my two chubby hands and gently touch your face. That's the perfect end to a perfect day.
Please keep Galvis in your prayers. He's a precious little boy! His greatest need and our greatest hope for him is that he will find a forever family to make him their own. 
*Please note that this piece was written creatively in first-person narrative in an attempt to give you a glimpse of Galvis through his own eyes. This text is not intended to be an accurate representation of his verbal level or his proficiency in English. It is meant to tell the story behind the smile.