English Name: Kirsten
Gender: Female
Age: 9 years
Enjoys: Peppa Pig and her favorite blanket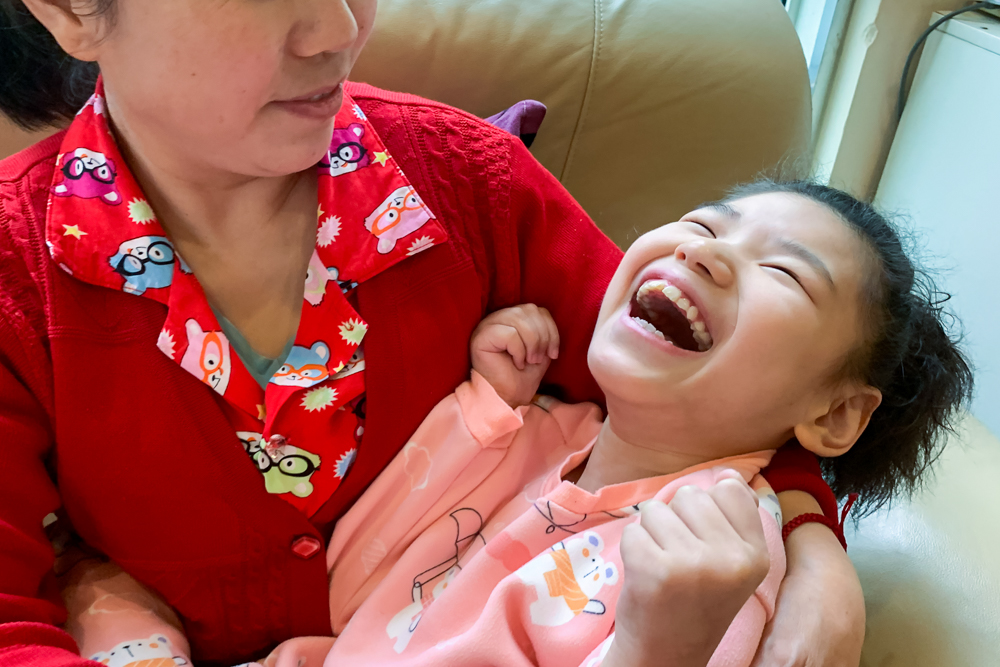 Meet Kirsten! This joyful girl was brought into our care in 2019. Born in 2013 with cerebral palsy, she has overcome many obstacles in her young life. She is incredibly brave at heart and continues to teach us about the most important things in life. We are so blessed to know and care for her, and it is our honor to share some of her story with you.
Kirsten rarely doesn't have a smile on her face! She enjoys relaxing days at the Hope Healing Home with her nannies and good friends. Dan is a rambunctious 3-year-old in her room who makes her giggle all day long! She loves to be near him and watch all the silly dances he does. Their favorite song is "Little Apple" by a famous Chinese pop band. Sometimes they watch television shows together like "Mickey Mouse" or "Peppa Pig." Kirsten always smiles, laughs, and even snorts along with Peppa in delight!
Every day, her nanny takes the time to gently brush her thick black hair into delicate braids or ponytails. Kirsten is always at her most content during this time, and the bond it creates between herself and her nanny is very special. They also share one-on-one time when Kirsten is eating her favorite meals or enjoying a nice bath. Her nanny says that Kirsten's bright smile and warm hugs can make anyone feel better!
As long as we've known Kirsten, she has had a soft, colorful, rainbow blanket that she loves to hold and sleep with. This small comfort can make all the difference to a child, and we're so happy she has a tangible keepsake to bring her peace.
Kirsten's joy lights up the room the moment she enters it. Her giggle is infectious—reaching out to the furthest corners with its delightful ring. We hope her joy is conveyed through our stories and photos so that you might also experience her light. Will you pray for Kirsten to continue to remain healthy throughout the changing seasons? Our greatest hope is for her to know how loved she is.