Today we take a turn from our nursing staff to showcase a team member of many talents, Rebecca Shook. From teaching to storytelling to accounting, Rebecca has worn many hats and has done a little bit of everything during her tenure at New Hope.
Becca (as she goes by) was born in the United States but moved to Spain at a very young age and grew up there until she was 9 years old. Her family then moved back to the U.S. and made Florida their home. She always had a special love for children and eventually chose a career path in teaching. After graduation, she landed a job at a private school in Alabama where she taught 2nd grade for a year and kindergarten for six years.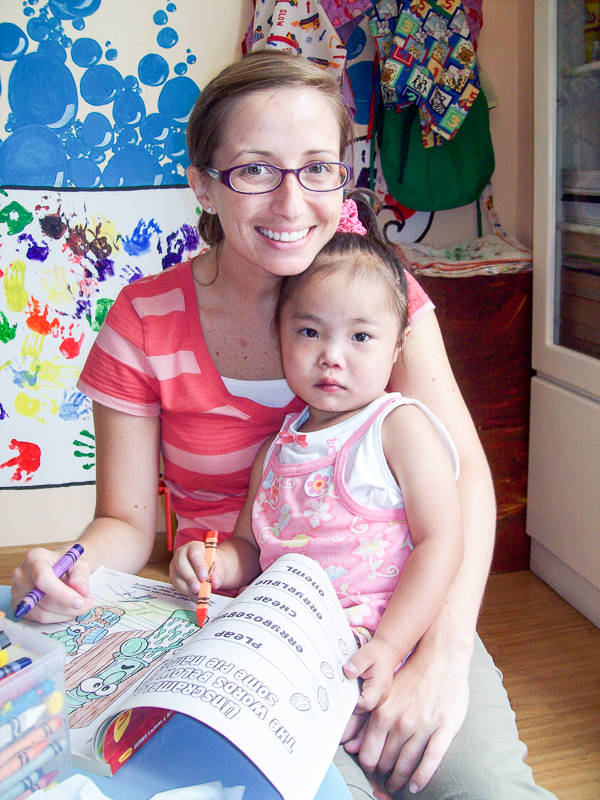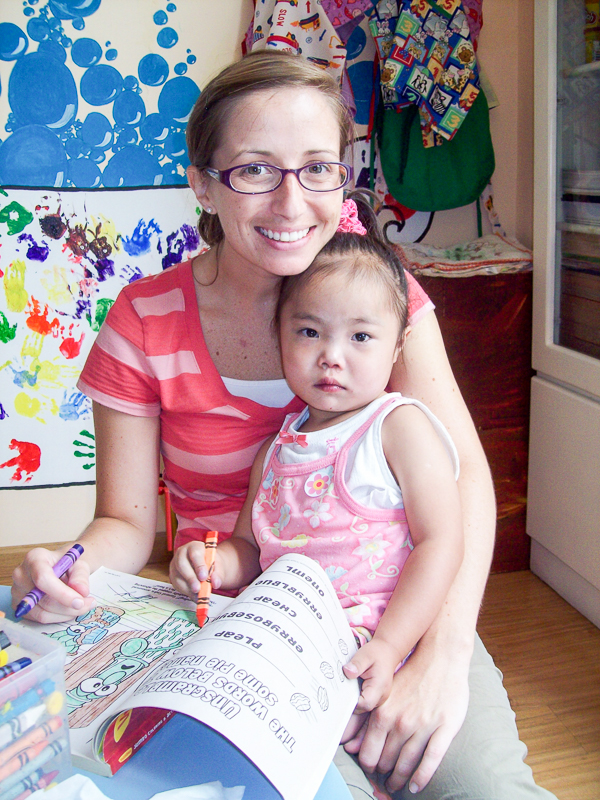 Becca snuggles with Fahlin in preschool
The school Becca worked for was connected to a Christian children's home that cared for kids in great need, and this, coupled with the fact that she had spent significant years overseas as a child, gave rise to a desire to serve in some capacity in another country. She eventually reached out to Show Hope, an organization she had been supporting that cared for orphaned children in China, and through that connection, she was ultimately put in touch with our co-founder, Robin Hill.
After a brief email exchange with Robin, Becca was redirected to a young man named Mikey who was working at our Special Care Center in Luoyang at the time. He helped work out the details of her stint as a volunteer preschool teacher, and in August of 2011, at the age of 29, Becca found herself beginning a new adventure in Luoyang that was to last for just one year. Except it didn't.
As it turned out, Becca ended up staying in China. She transitioned from a volunteer role to a part of the hired staff, and in addition to teaching preschool, she started helping with communications and photography. She really enjoyed this kind of work, and it allowed her to have a whole new kind of engagement with the children.
And speaking of engagement… Well, let's save that for later in the story.
As we chatted about her experiences, Becca recalled without hesitation the first little boy to steal her heart. His name was Milton and he'd had surgery for a cleft lip and palate. He lived in the 2nd floor middle room in Luoyang, and she would go there every evening to hang out with him and the other toddlers in his room. It took a lot of patience and effort to win his affections, but eventually there grew a unique connection and bond between them. She fondly remembers how he would stand at the glass window—just a little tot—and wave at her when she would leave or come by. Needless to say, he has occupied a special place in her heart ever since. (It was sweet to see how Becca lit up as she described how Milton would light up whenever she entered the room!)
At the same time, she also became a special friend to a little girl called Jillian, who was later adopted by a family in Alabama. Becca has had the pleasure of staying in touch and keeping up with Jillian's progress these years following. Milton was adopted, too, but she was never able to learn anything about his family. For now, she simply cherishes all the wonderful memories she made with him.
On a personal level, Becca has endeared herself to the staff and volunteers through her kind and friendly nature, her passion for the children, and her unexcelled flair for hospitality. It's been noted by our nurses and others that she has a special knack for making newcomers feel welcome and like they're a part of the family from the very get-go. In fact, for this story, Robin Hill wrote of Becca, "Her and Mikey's gift of hospitality made an enormous impact on everyone that came to work at NHF."
Ah, yes, Mikey. That brings us back to the matter of "engagement." It wasn't long after they began working together that Becca and Mikey realized they were in love! In early 2013, their paths merged and then diverged, leading them to Beijing, where they got married in May and later started a family that has now grown to include three little boys who are as handsome as they are active.
Check out these photos from their wedding…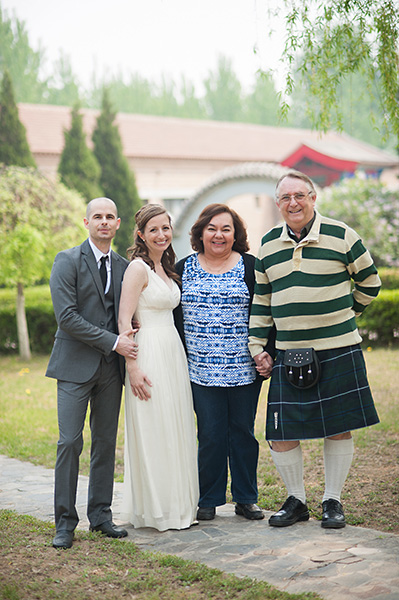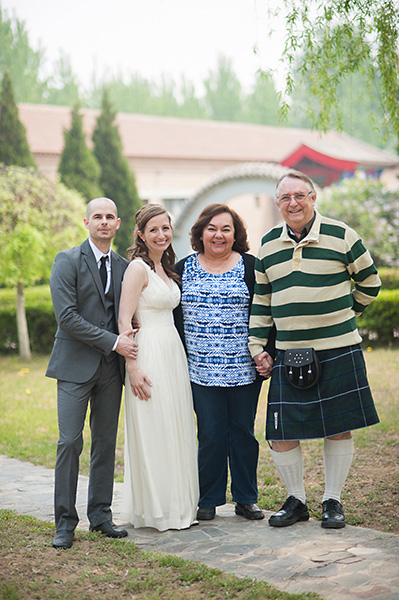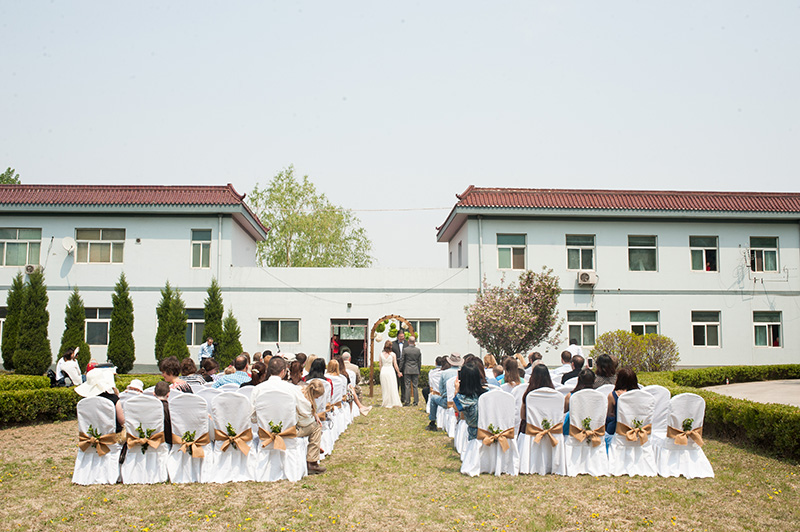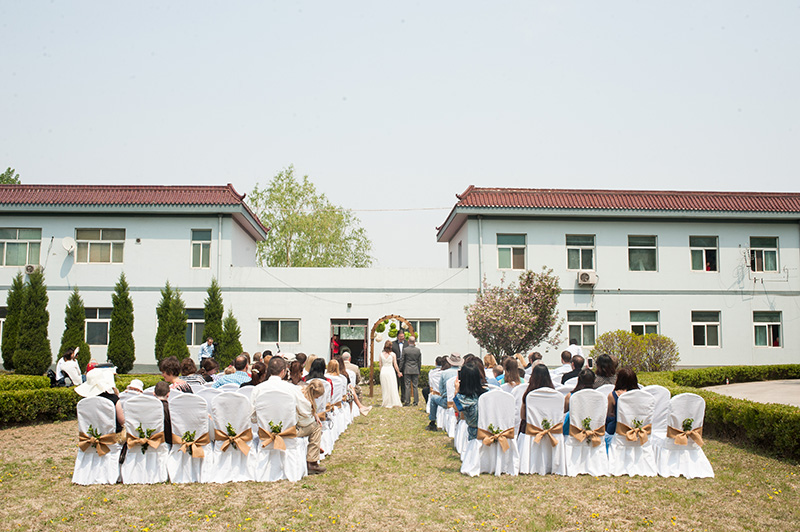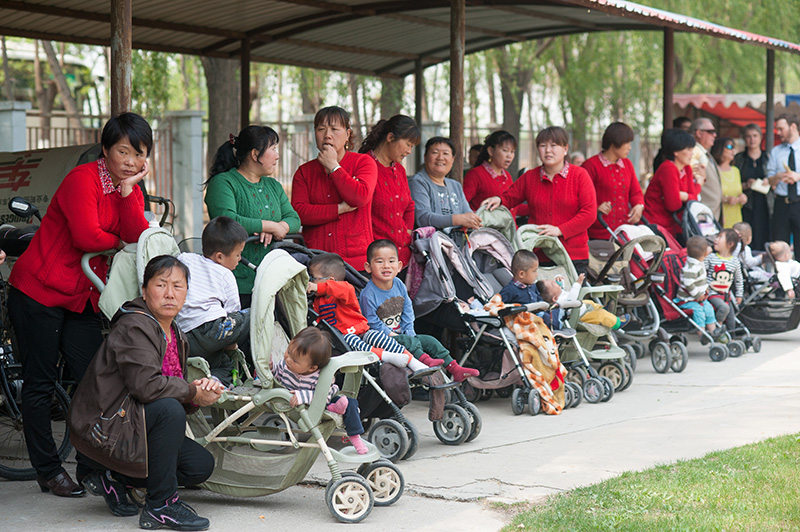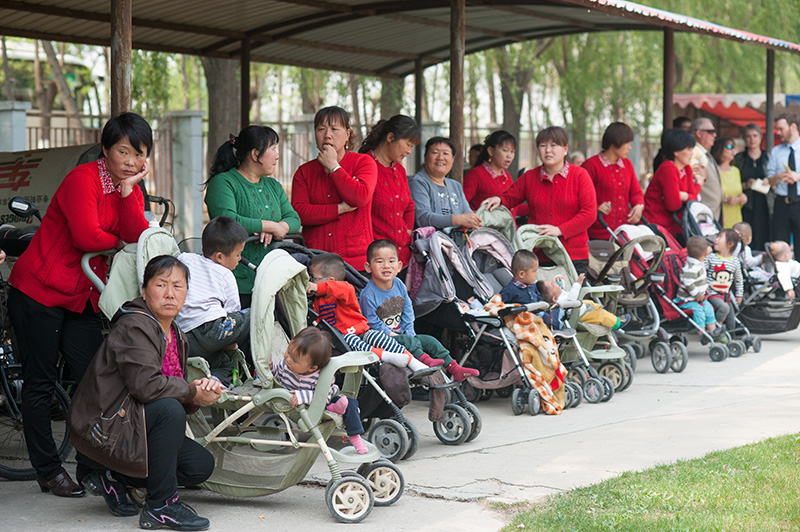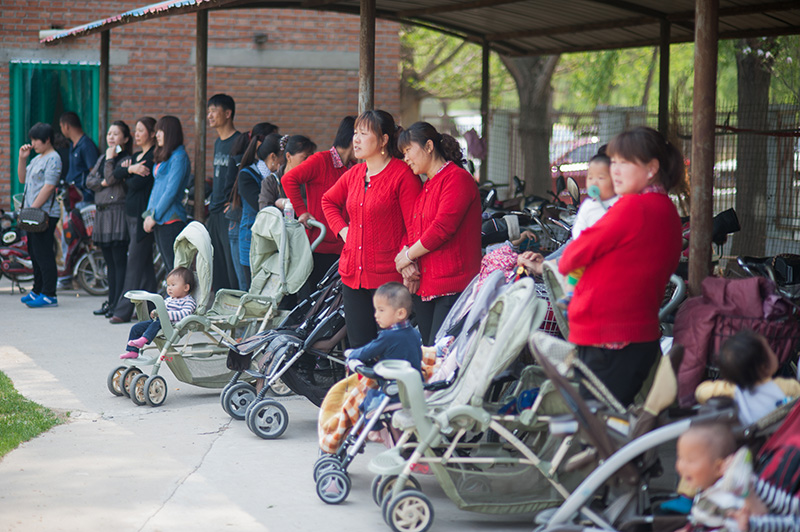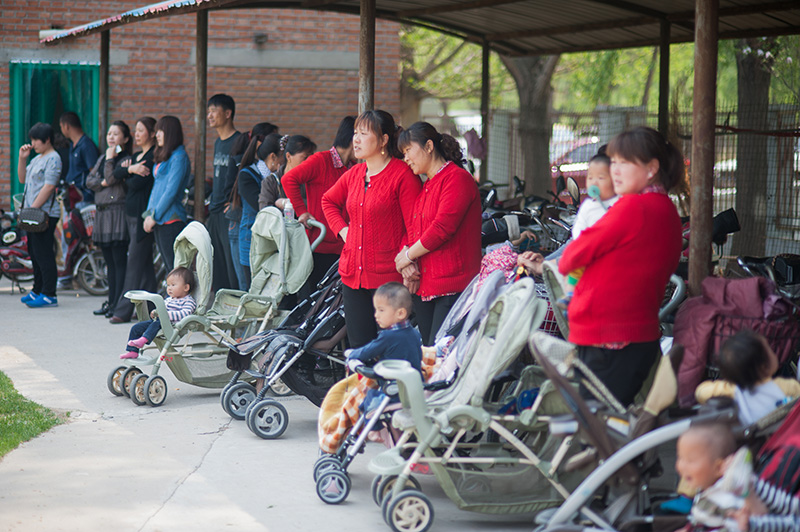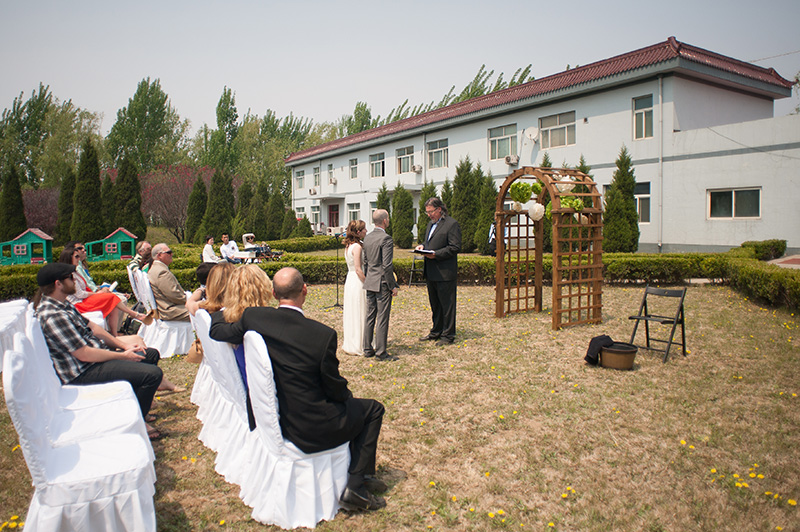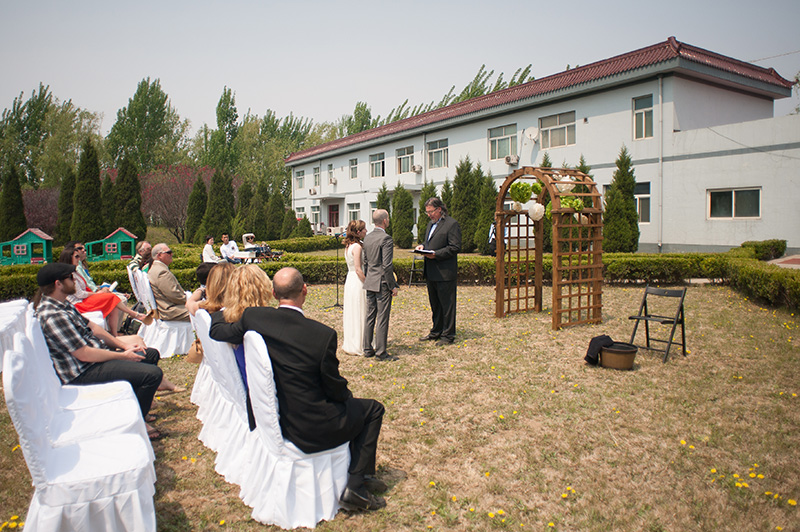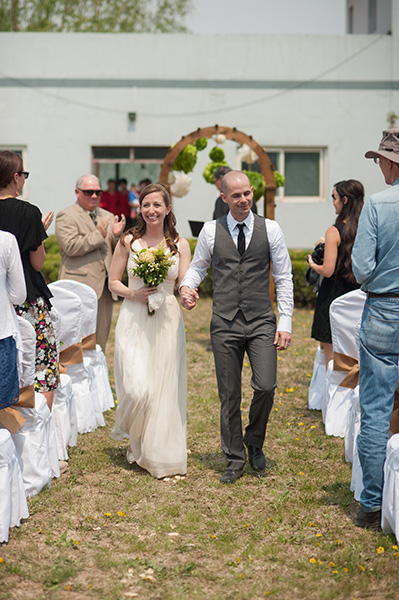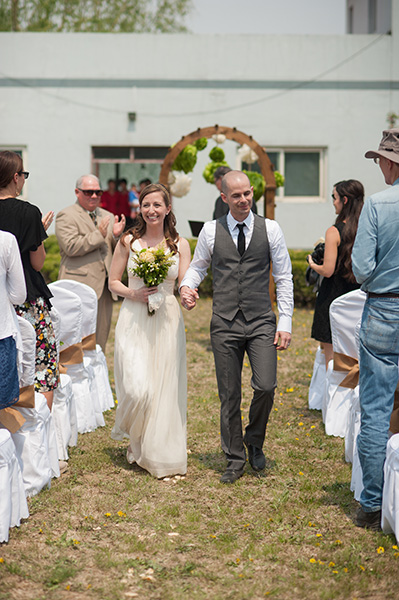 At this time, Becca took a bit of a break from the work here and taught at an International School in Beijing for a year. Her heart was not fulfilled there, however, and when there was an opening again on the staff of New Hope, she made a beeline to apply. In 2014, she officially started as the assistant to the Director (Robin), and she also continued in the preschool, either teaching or overseeing volunteer teachers as the situation required.
Her new position included administrative duties, such as accounting, that took her away from the kids some, but she was happy knowing that all of it was impacting the children either directly or indirectly. Not surprisingly though, Becca says the thing that brought her the most joy and that she felt the most invested in was the preschool program—both the building of the program itself and the hundreds of hours spent in the classroom teaching the children in Luoyang and Beijing.
Another area Becca has felt especially strongly about is preserving the history of individual children through photography, scrapbooks and preschool crafts. So many children who are orphaned and later join a family may sometimes, if they are lucky, have a few baby photos of themselves and possibly some of the caretakers who cared for them. Becca commented, "I'm so grateful that we are able to provide the children in our care not just with photos from the time they were admitted until they are discharged from our care, but for many, we are also able to provide a physical scrapbook that's been created by many people and that has photos of them, their nannies, their bedrooms, their friends, etc."
In addition to their photos, oftentimes preschool crafts (for those who attended preschool) are included. These are things like handprints and ornaments they can hopefully one day hang on their family's Christmas tree. Becca recognizes that these tangible pieces of their "history" are truly priceless. "It is my sincere hope that one day they will look at these artifacts from their past and know that they were loved and cared for deeply even before they came to know the love and permanence of a family."
Here are a few photos from Scrapbook Central (click to view individually)…
Sadly, in our line of work, tragedy strikes often. Becca recounted how that going through the experience of children suffering and, in some cases, eventually passing away has been life-altering for her. Coming on board as a teacher and not having had a medical background, this was something very new to her. Looking back, she says, "I don't think any amount of mental or emotional preparation could have really equipped me for walking through those times firsthand. In some respects, it really impacted my faith and the way I am able to relate to God; in some ways positive, and in others negative. It's difficult to try to make any sense of it and how God could allow such suffering and pain, but it also draws you to God and to questions that would not be possible in other circumstances."
Perhaps the biggest felt tragedy, the one that impacted Becca and her family the most, was the unexpected closing of our Beijing Care Center in early 2019. In her own words, "It really rocked our world, including the trajectory for our future plans for the duration of our time in China. I think if there's a 'lesson learned' in that event, it's that nothing in this world is certain or sure apart from our hope in Him. Although it was an incredibly sad event, it pushed us to really trust in His provision over us personally as well as over the many children that the closure impacted."
Besides working at the Beijing location, Becca and Mikey held their wedding on the grounds, lived on-site and had two of their children while here. The third was already on his way when they were blind-sided by this bombshell news. As you can imagine, all of these factors made it especially difficult to say goodbye when they eventually had to pack up for a place closer to the city. It was hard, too—on both sides—for their kiddos to leave Grandpa Robin and Grandma Joyce.
Pondering her time and experiences here at New Hope, Becca concluded, "I've always thought of myself as a 'glass half full,' 'look at the bright side' kind of person, and although I think I still lean in that direction, I think I've really had to wrestle with the 'glass half empty' side of things as well. It is my hope and prayer that I am able to leave China, and New Hope specifically, not just with an 'everything is going to be fine and life is good' attitude, nor with a cynical, hard heart over the suffering and pain I've seen, but rather with a more balanced mind, with memories of the incredible beauty I've encountered in so many little lives, along with the ability to empathize with suffering in a way that I wasn't able to before I came."
Although 2020 has proven to be a very difficult year to make plans for, Becca and Mikey are looking to leave China to relocate to the States by year's end. The details have yet to be worked out, but she hopes to remain on staff part-time and to be able to keep connections with adoptive families—another piece of the work where she finds great enjoyment. Besides the children, what will she miss most about China? The food, she says, and the pace of life here. "Although life in China (as a foreigner) can be exhausting at times, there's something so beautiful about the communal and simple way in which life is lived on many levels."
We will certainly miss Becca's thoughtfulness and hospitality and so much more when the time comes for her to return to the States. We're extremely grateful and blessed to have her as a key member of the NHF team, and we look forward to her continued contributions to our work for a long time to come!