Name: Ednalyn Sunga
Joined NHF: October 2009
Home Country: Philippines
Position: Children's Nurse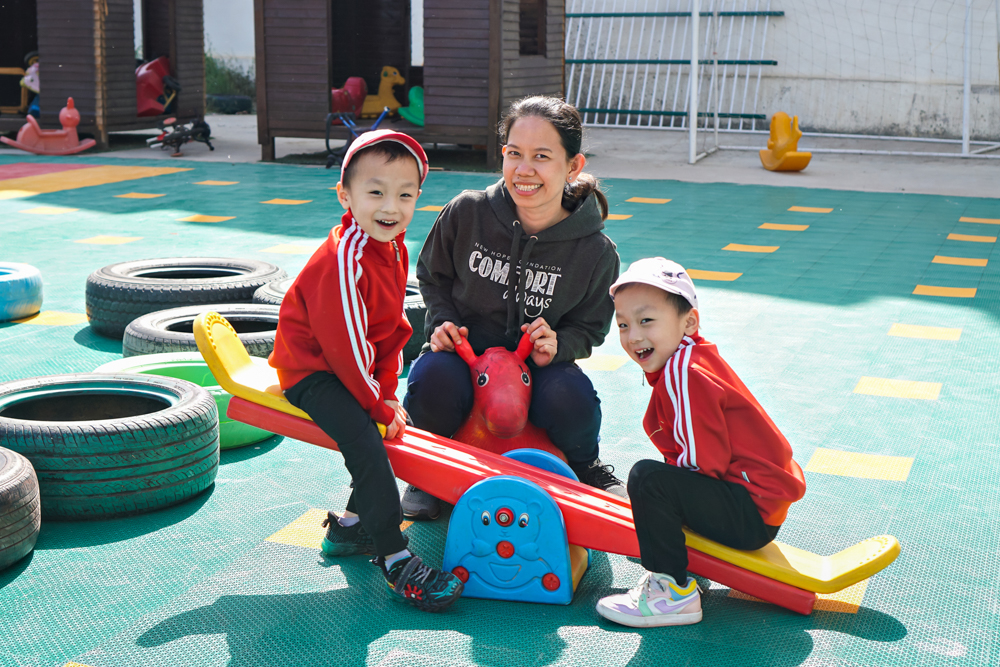 Friday is International Nurses Day so this is the perfect time to highlight another of our beloved children's nurses, Ednalyn, whom we call Eds. New Hope Foundation has been blessed with a team of wonderful nurses who love and care for the children so well, and we're sure that you will enjoy reading about Eds' journey and experiences during her time with us.
When did you begin working for New Hope Foundation?
I started working with Robin and Dr. Joyce on October 29, 2009. This is my first job out of college.
Why did you want to work here and how did you come on board?
Two of my nursing school classmates that were employed by New Hope at the time informed me that they were seeking for another nurse because NHF intended to expand to another city in Henan. After I submitted my application, Robin responded within a few days to let me know that I had been accepted and that they would like for me to come to China!
Prior to that, my classmate had briefly introduced NHF to me through their website in 2008 while we were both looking for work domestically and abroad. The well-kept buildings, wonderful artwork in each playroom, color-coordinated quilts, spacious playgrounds, and the adorable faces of the nannies and children, among other things, made me feel that NHF was very well-managed. I had the thought in the back of my mind that it would be wonderful to be a part of that organization, but I had no idea that it would come true a year later and continue to the present.
When the opportunity presented itself, I was initially hesitant since I would be leaving my comfort zone. This would be my first time traveling outside of the country, and I would be separated from my family. But since children are very close to my heart, that decision was made easier.
What is your role and has it changed any over time?
I came on as a staff nurse, attending to the medical needs of the kids up to the present. But as time has gone by, that role has evolved. I have become a provider of fascinating shows for them to watch, a printer of coloring pages for them to color, a teacher of easy English lessons, an aspiring baker to make them baked goodies, and a willing jiějiě [older sister] who takes them outside to play. And since I love taking pictures, I also became a photographer, especially for their special occasions or during important events.
What is it that has made you stay with this organization?
Being with these precious children every day will make your stay worthwhile. Staying was made simple by working alongside these wonderful colleagues and management that cares about everyone's well-being, who all became part of my China family. Seeing the nannies treat the kids like their own is so heartwarming. It truly is an honor for me to work for NHF and be part of the team. I proudly claim that I have the best job in the world!
Has there been any one child who has touched your heart in a special way?
Every child I have encountered while working at NHF has touched my heart in one way or another.
Since I am fascinated by twins, Jonathan and Rafael have had a special impact on me. Prior to their admission, we received twin girls, but they did not stay for long. With the boys, I have been able to watch them grow from babies up to this moment, though less now that they are in another Hope Healing Home.
The twins have gastrointestinal problems, but their conditions did not stop them from being active and jolly kids in their room. Even at such a young age, they have already gone through many things that perhaps some adults won't experience in their entire lives, including surgeries, illnesses, and the pain of being abandoned by their parents. Despite this, they continue to be brave and enjoy life daily with such happy hearts. They bring constant joy to their nannies and to their jiějiě nurses as well. For a brief time recently, Jeanky and I were able to visit them in the other Hope Healing Home. I was so happy that they still recognized us, and it seemed that no time had passed since the last time we were together! They excitedly enumerated the activities that we did when they were still in the other home, and then we played with their toys and on their playground. I am praying they may experience the love of a family real soon.
Has there been an event that has had a significant impact on you?
During my first few months here, I was assigned to the Hope Healing Home in Beijing and was sent to Shanghai to accompany Khloe, a baby who was to undergo heart surgery and needed oxygen to breathe. Since I could barely speak Chinese at that time, I communicated with the nannies through my actions. Throughout our train ride, we were awake, keeping an eye on the baby. We were also frequently checked by the railway officers since oxygen tanks are typically not permitted on trains. Khloe had her surgery and returned to the home after a few weeks, but she was bluer than when she went for her surgery. Sadly, her condition worsened, and she passed away after a few days. That was my first experience of death here at NHF. I was glad Dr. Joyce was with me during that time and I was able to witness the love she gave the child even after her passing. Even though I've witnessed numerous passing of babies here, it is still heartbreaking every single time. I just think about how they will be with our Father, and there will be no more pain and suffering.
Another thing is the joy and beauty of adoption. Although I'm a little sad that these children will no longer be with us, I am reminded that adoption is a reflection of God's love. On our part, we just have to shower them with as much love as we can while they are still in our care in order to prepare them for the unending and constant love that they will receive once they are united with their family. We are so happy when we get to follow the lives of the kids after adoption, too!
Another one is the pandemic. Since we did not know what would happen in the beginning, I believe that everyone felt terrified. Even though we've read books about prior pandemics, it was still not the same as it happening. I made the decision to return to the Philippines in December 2020, not certain if I could still go back to China before my visa expired. As the months passed by, although I was afraid that I may not be able to see the precious kids again, I just prayed and continued trusting His will. When China's border opened, I was able to secure a visa and returned to NHF in October of 2022. While I was in the Philippines, I had the opportunity to spend quality time with my husband, family, friends, and furbabies. I learned to value relationships more and to strengthen them. It was a challenging yet humbling experience.
How has working here changed your life personally?
Being with these children with various health conditions has made me realize that we are all valuable in God's eyes. Each one is precious. I have learned to accept that there will be differences and to embrace their cute and unique personalities. Maybe some learn faster, some don't. It has taught me to be more patient and to be sensitive of their capabilities. Seeing them go through so much hardship in their young lives and yet live with so much joy, I've learned to see the beauty of life through their eyes. I've learned to be more loving and give them the love that they deserve. Because of these children, I try to be kinder and strive to be a better person. Caring for them is challenging but extremely rewarding. Serving these orphaned children has made me more appreciative of life and grateful for the things and the people I have in my life.
Are there any other comments you would like to add?
Let us not delay love as tomorrow is never promised. Give love while you still can. Life is uncertain, but our God is faithful and will always be. As my favorite priest Fr. Jerry used to say, we just have to learn to BTS: Believe, Trust, Surrender. We have to believe in Him no matter what, and we have to hold on to Him. We have to trust in Him with all our heart and know that His plans are greater than ours. And we must surrender everything and everyone to Him. When we go through any hardship of any kind, let us believe that God loves us, trust that He knows what is best for us, and surrender to His great will and plan for us.
"For I know the plans I have for you," declares the Lord, "plans to prosper and not to harm you, plans to give you a HOPE and a future." — Jeremiah 29:11