The start of this new year 2020 will most certainly live in our memories for a long time to come. As China continues to battle the coronavirus, we are in prayer daily for the infected, the ill, and the grieving, as well as all those who are trying to help in any way. It has been a time of heartbreak and uncertainty on so many levels for the people of this country, but we are thankful that there have also been bright spots as reports of those who are recovering trickle in.
Right now, we're doing our best to work with local authorities to help those areas which have been most heavily impacted by the virus. In the midst of the trials this year has brought us, we are extremely grateful for the opportunity we have to continue looking after our children and to work closely with our beloved Chinese staff. We would ask that you join us in praying for grace and protection for each one, and that countrywide the situation will be resolved quickly with a minimal number of further fatalities. Your prayers are appreciated.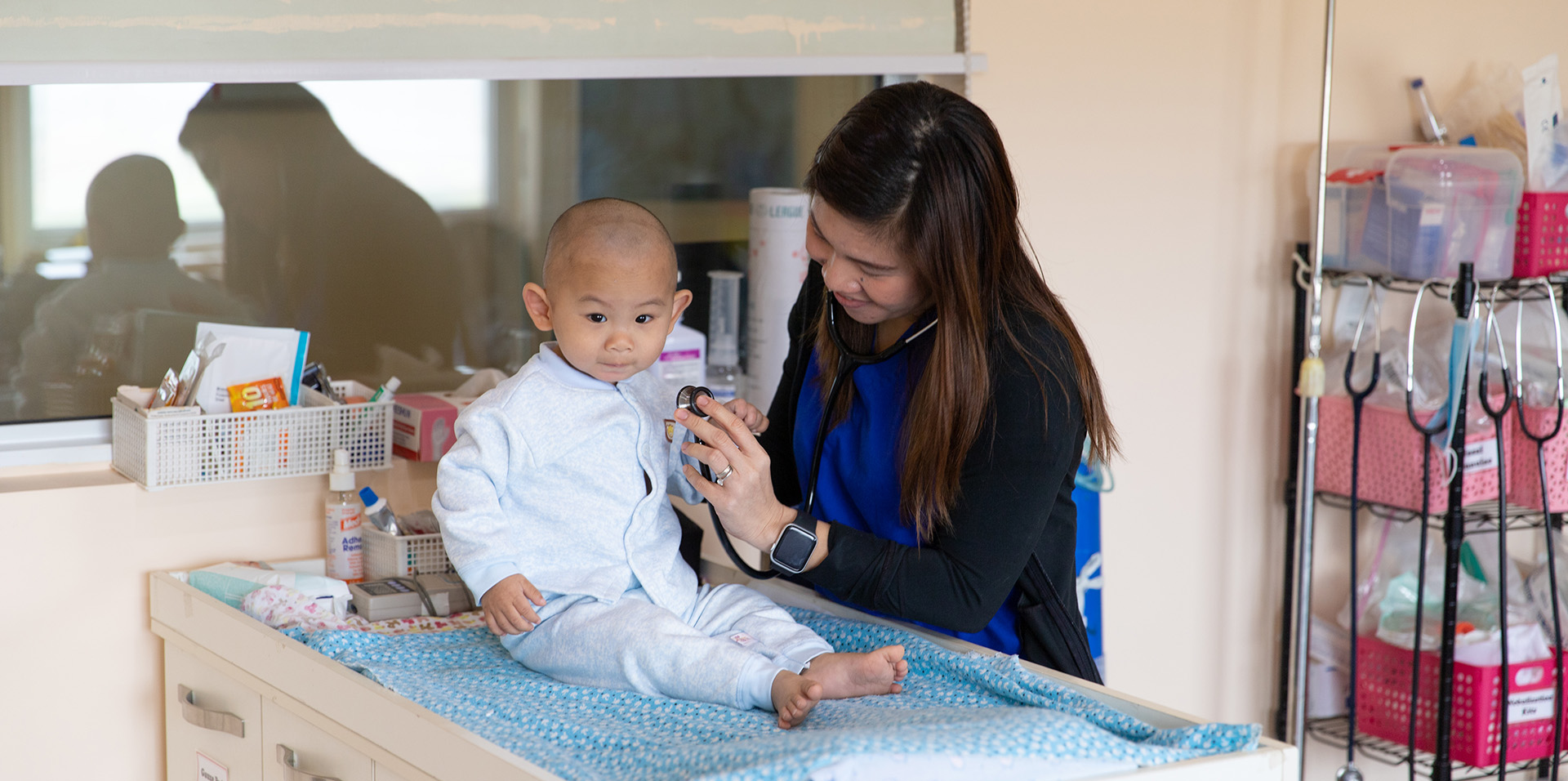 Today we want to share the story of one of our team members who lovingly cares for our children—and continues to do so even now in spite of this present threat. She is our fun-loving nurse, Krishtel. She's worked for us for more than ten years and spent a lot of that time at our Care Center in Beijing, and in fact was there up until its closing. She now spends most of her time at our Zhengzhou Care Center.
It would be easy to think that the emphasis is placed on the "tel" of Krishtel's name, but it's actually pronounced more like the word crystal. A beautiful name for a beautiful nurse.
Krishtel graduated from nursing school in the Philippines in 2008. Her sister's best friend at that time was working for New Hope Foundation. It was difficult to find work in the Philippines then, so her sister suggested she apply for a job at NHF. She sent her resume to Robin Hill and subsequently received a reply asking her to come to China. China!
Krishtel had always had a desire to care for children but was concerned about her own lack of experience as she had just recently graduated. Robin assured her that it was not a problem and that she was really needed. On January 7, 2009—she remembers the exact day—she began working for New Hope in Beijing.
This was a huge leap for Krishtel as she had never been outside her own country or away from her family, and she definitely did not speak Chinese! Any apprehensions she might have had were quickly put to rest because she found in New Hope a second home, and in the Hills and other coworkers, a second family. She remarked during our interview that she never wants to leave her family in China.
This "home and family" theme is what stands out the most to Krishtel. She says that at work, everyone is professional and focuses on doing their job well. There is great respect for one another and for each individual's role. But after hours, everyone is truly one big family.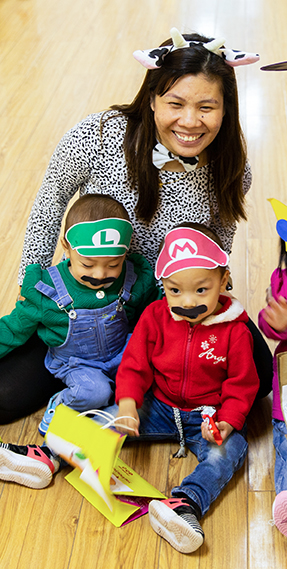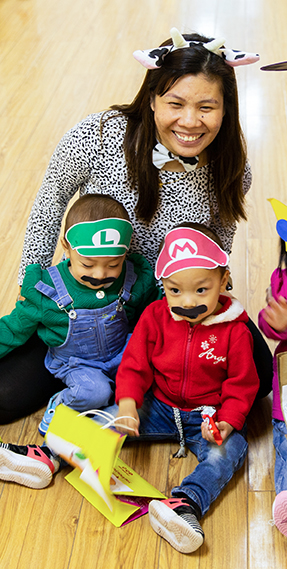 Krishtel with "Mario" and "Luigi"
(aka Jonathan and Rafael)
Krishtel just might be the biggest nut on our NHF family tree! She is fun-loving and seems to always be laughing about something. There doesn't even need to be anything humorous at the time. She is really great with the children and has a special knack for organizing things like trick-or-treat and holiday photo shoots at the Care Centers. She can come up with amazing props and costumes even when there are very few resources available. The kids absolutely adore her!
With her bubbly personality, she is able to create many happy moments, but what brings Krishtel the most happiness personally is when a child is adopted. One special time she was connected with a family who was having some trouble with their newly adopted child. Because she knew the little one so well, she was able to talk with the family and give them a bit of loving guidance. After that, they had no more problems. It was very rewarding to Krishtel to be able to support the family and the child she so missed in that way.
The kind of work we do is inherently bittersweet. It offers both amazing joy and terrible sorrow at the same time. Krishtel recalled her first experience of losing a child in death. It was so sudden and unexpected—as it can often be—and was extremely difficult for her. But then so is adoption. To love fully is to open one's self to the pain of loss. Though it's never easy, she said she has learned to prepare herself better for the goodbyes in whatever way they come.
We asked Krishtel how working here has changed her life. She replied that she has seen a lot of miracles and that that has increased her own faith. Now when she sees a child with a serious condition, she knows to pray and have faith that God will provide. She said that many times in her own sorrow, she would forget to call upon the Lord, but then remembering how God has moved for the children has helped her to reach out to Him for herself. She said working here has also made her more grateful and appreciative of what she has in life.
Krishtel's honorary twin and best friend is Robin and Dr. Joyce's daughter Katie. When the two of them are together, it's double the fun and double the laughter for sure!
Among Krishtel's many strengths are thoughtfulness and team-building. She has made it her business to bake cookies and buy little gifts for the nannies who care for our children. She feels that this is a great way to build relationships and to let the nannies know they are appreciated.
Not surprisingly, Krishtel's closing comment about work was, "Have fun!" She noted that this kind of work can easily be depressing if you don't keep it fun. She is definitely an all-star MVP when it comes to keeping things light and festive, and we're so grateful to have her on our NHF team!