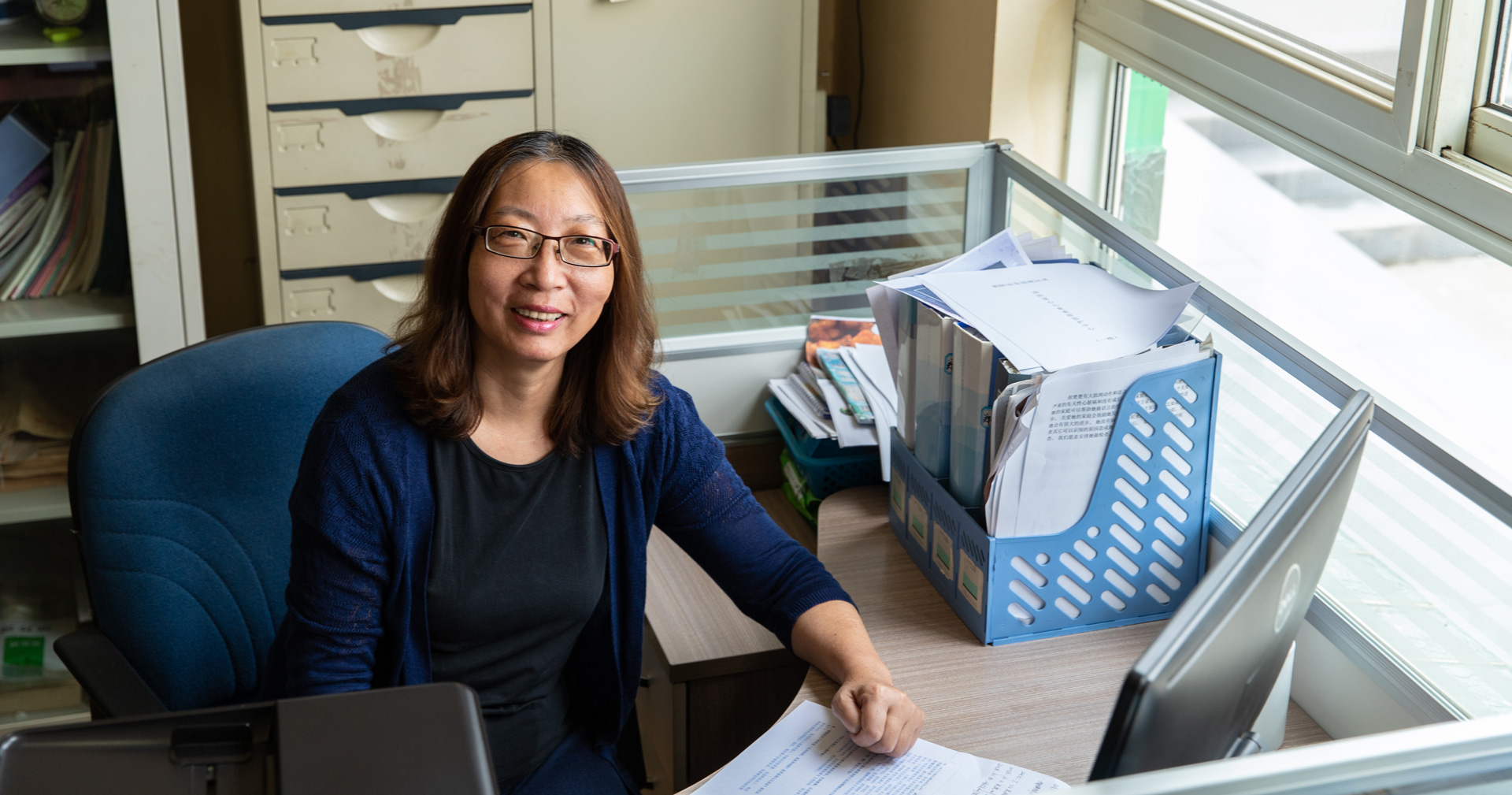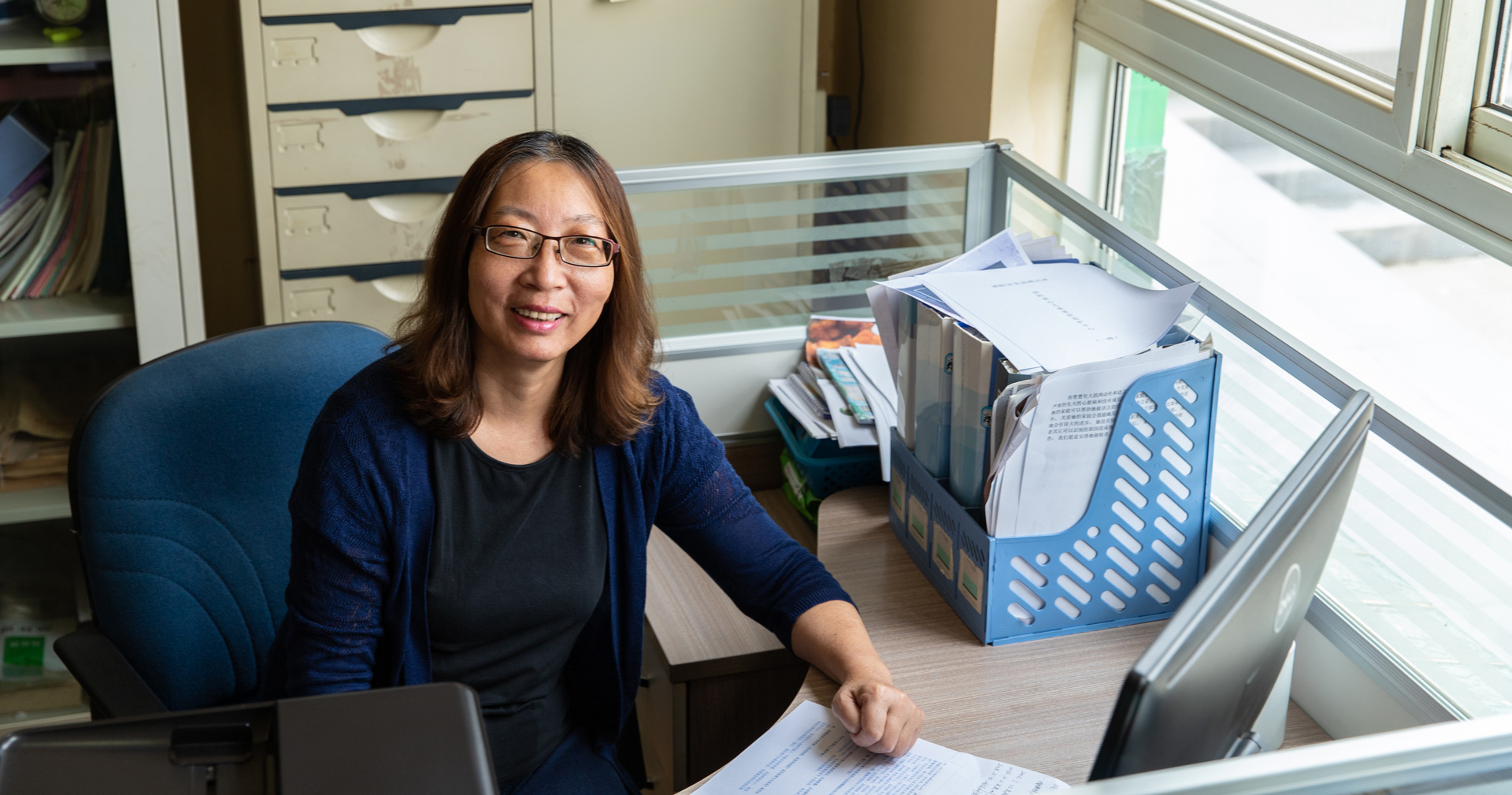 This is the third installment in our triple-header opening of this topic, Meet Our Staff. Today we introduce Li Guo Lan. We call her by her English name, Linda. Along with Xiao Li and Xiao Juan, she is the third individual who has been with New Hope Foundation the longest and has been an important key to our success.
Before coming to us, Linda was a teacher for over thirteen years. In June of 2000, she finished her tenure with the school she taught at and was looking for a new place of employment. Through Xiao Juan, who happens to be married to Linda's younger brother, Linda learned that Joyce Hill was looking for a nanny to care for the orphans.
During her interview and tour of NHF, Linda met some of our precious children. Two in particular had a great impact on her heart. Daniel and another child called Yaya were both in very serious condition at the time, and through them, Linda's eyes were opened to the realities of abandonment. Seeing and realizing that these kids had not one single relative in their lives, she understood that they were in desperate need of love and nurturing. She decided to take the job and the responsibility. (Her special child, Yaya, was later adopted to the United States and grew up to become a nurse.)
Linda first came on board as a nanny. Then as the work grew, she became responsible for hiring and training the nannies until eventually she became the director of all our care centers in Henan province. She is a tremendous blessing and does a fantastic job!
As we sat together and traveled down memory lane, Linda recalled a child named Xuan Xuan who was born with a huge lump on her back in addition to having hydrocephalus. The time came for the little one to have surgery for both her back and head. A few days after the operation, the little girl's head burst open, and, as Linda described it, the contents were spilling out. Joyce contacted the authorities and asked them to get the child a passport as soon as possible so she could be transported overseas for life-saving surgery. She was told that it would not be possible to get a passport for Xuan Xuan. Linda recalls that many people involved were giving up hope, but not Joyce. Quickly implementing a "plan B," Joyce made arrangements for doctors to travel from abroad to perform the surgery in China. Xuan Xuan's life was saved and later she was adopted by a family in the United States.
Observing Robin and Joyce's tenacity in this and other cases certainly rubbed off on Linda. She talked about another child, Nian Nian, who came to us when he was only a month old. He was diagnosed with intestinal obstruction and septicemia. The tiny baby was sent to Suzhou for surgery, but his condition greatly worsened, and he needed to be transferred to Hong Kong immediately for further treatment. When Linda contacted the authorities, she was informed that in order for Nian Nian to be granted a travel paper to Hong Kong, he would first have to return to his CWI. Linda explained that Nian Nian was far too ill and needed to go to Hong Kong directly from Suzhou. The authorities kept repeating themselves and asserting that it was impossible, while Linda just kept insisting and pleading with them to the contrary.
Finally, the authorities agreed to go to Suzhou themselves to process the travel papers. Against all odds and in spite of the declared "impossibility" of the situation, Nian Nian was cleared to travel to Hong Kong. He was in need of very complex treatment, and thus, his visa had to be renewed a number of times. This was again an impossibility that somehow occurred more than once. Then finally, despite having such complicated and serious medical conditions, Nian Nian was adopted by a family in the United States—another seemingly impossible hurdle crossed!
Linda says she witnessed many impossibilities become possible and it taught her what faith is all about. She was not a believer in the beginning and really didn't know anything at all about Christ. Watching the lives of Robin and Dr. Joyce and seeing evidence that indeed "all things are possible" helped her to decide to accept Christ as her Lord and Savior.
On a personal note, the Hills took special notice of Linda's talents early on and asked if she would care for their own newly-adopted baby daughter, Katie. She accepted and was Katie's nanny for several years. The two grew very close and it was a difficult and tearful goodbye when it came time for Linda to transfer to our special care center in Luoyang (which later became Maria's Big House of Hope).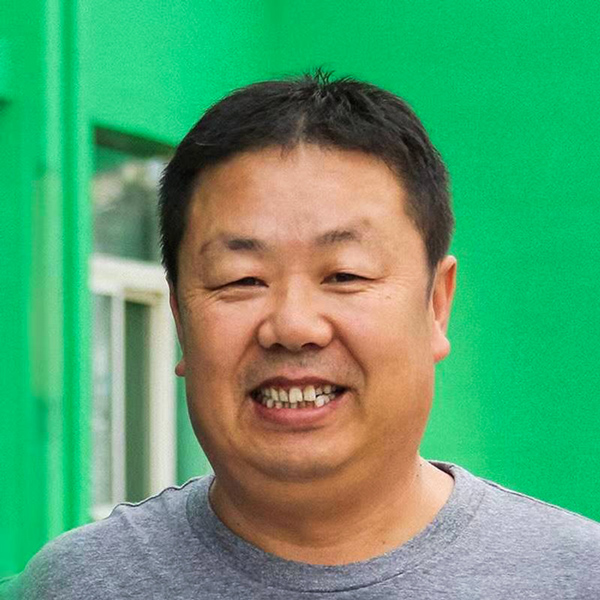 Linda's husband, Jin, has been extremely supportive of Linda's work and the changes it has brought their way. He used to be employed with his brother in Beijing helping to remodel fancy buildings for VIPs and movie stars. It was a really good job—to put it mildly. After learning how strongly Linda felt about moving to Luoyang to assist Robin and Dr. Joyce in running the care centers in Henan, Jin was not only willing to let her go, but he gave up his well-paying job and went with her. He has been assisting her in whatever way he can ever since.
Linda and her husband have given a lot for the children of New Hope. Their willing spirit has come in part through seeing the sacrifices that Robin and Dr. Joyce have made for the kids. They understood that the Hills had good-paying jobs and a comfortable life, but they gave it all up to care for the little ones that no one else cared for. "They are not Chinese, but are willing to do this," Linda remarked. "I am Chinese and I should be doing the same."
Our faithful director elects to stay on duty every day until 10 o'clock in the evening. (She is at liberty, of course, to take breaks throughout the day as needed.) She keeps a close eye on everything and watches the security cameras often to ensure that the children are being properly cared for. We can truly say that New Hope Foundation would not be what it is today without Linda's contributions. We are extremely blessed to have her.
One of our foreign team members recently stated that Linda is his hero, and his next comment pretty much sums it up. "After observing Linda for a number of years, I truly believe that she would give her life for the children if need be."